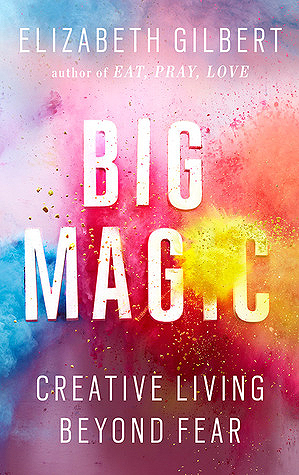 Elizabeth Gilbert's book Big Magic is a journey in the answer to one question: Do you have the courage to bring forth the treasures that are hidden within you?
Creative living, according to Gilbert, is not specifically a pursuit of a life devoted to the creative arts like writing or poetry, or painting. Rather, it is the pursuit of living creatively in the everyday.
She begins by addressing the obstacles to creative living, namely fear. Fear is that self preservation instinct that prevents us from achieving what we have the potential to achieve. However, fear and creativity, Gilbert says, are buddies; where creativity goes, fear isn't far behind.
She then goes on to explain the relationship between ideas an people as a magical one wherein an idea and its person enter into a contract to bring the idea to fruition.
Creativity is a force of enchantment - not entirely human in it's origins.
The main process in the creative pursuit is this: Courage, Enchantment, Permission, Perseverance, and finally, Trust. Her book reads like a incredible tale filled with unique metaphors and words of wisdom from herself and various people who have tried creative living, those who have succeeded and those who have failed. If there is one thing to be taken away from this book, it is that creative living is for everyone provided they are willing to put in the hard work and commitment required to maintain it.